The role first responders play to keep loss of life and property minimum in case of disaster and emergency is highly important. During these moments in which each second is important, either access to disaster area or vehicles, equipment, and all other essential devices that are used during the access to disaster area is extremely precious.
Since 2006, we have carried out many works concurrently in order to get Istanbul ready for disasters. Within this scope, to enhance the operational capacity, we invested to the first responders who are on duty in case of emergency and disaster: Istanbul AFAD Search and Rescue Department, National Medical Rescue Squads (UMKE), Provincial Security Directorate, Provincial Gendarmerie Command, Turkish Red Crescent and Boğaziçi University Kandilli Observatory. These investments were assigned with consideration of requirements to enhance functionality and operational capability in case of emergency and disaster.
The fully-equipped 4×4 search and rescue vehicles have been provided to be used during disasters such as earthquake and flooding and during emergency cases such as road accident and structure collapse.
Moreover, CBRN Decontamination Vehicle to decontaminate nuclear, biologic, and chemical materials after disasters, fires, industrial pollution, and terrorist attacks committed by weaponry of mass destruction; Water Rescue Squad Vehicle to be used in case of flood, shipwreck, and similar cases; and K-9 Rescue Squad Vehicle has been procured.

A more practicable camera monitoring and tracking system for MOBESE was acquired by making it traceable from many different spots concurrently, which was once a surveillance system that could only be tracked from one spot. Also, MOBESE surveillance cameras got enabled to be tracked by AFAD by providing essential line connections and information technologies equipment for network management to relevant institutions. 660 Mevlana Houses which were provided for Turkish Red Crescent were used during the Van Earthquake.
Moreover, many investments were made for UMKE such as haulage vehicle for vaccine, blood, and blood products; several medical first aid equipment (gurneys, air splint sets, flotation jackets, etc.); storage containers; battery-operated and diesel powered forklifts; mobile generators and light towers; cold storage depot; mobile communications vehicle; analog radio region transmitters, analog radio central units and analog radio mobile relays.
Also with the support of this arrangement, Istanbul AFAD Search and Rescue Department which fulfills the United Nations INSARAG criteria composed of 128 titles, became able to fulfill the national standards and to prove itself with INSARAG certificate.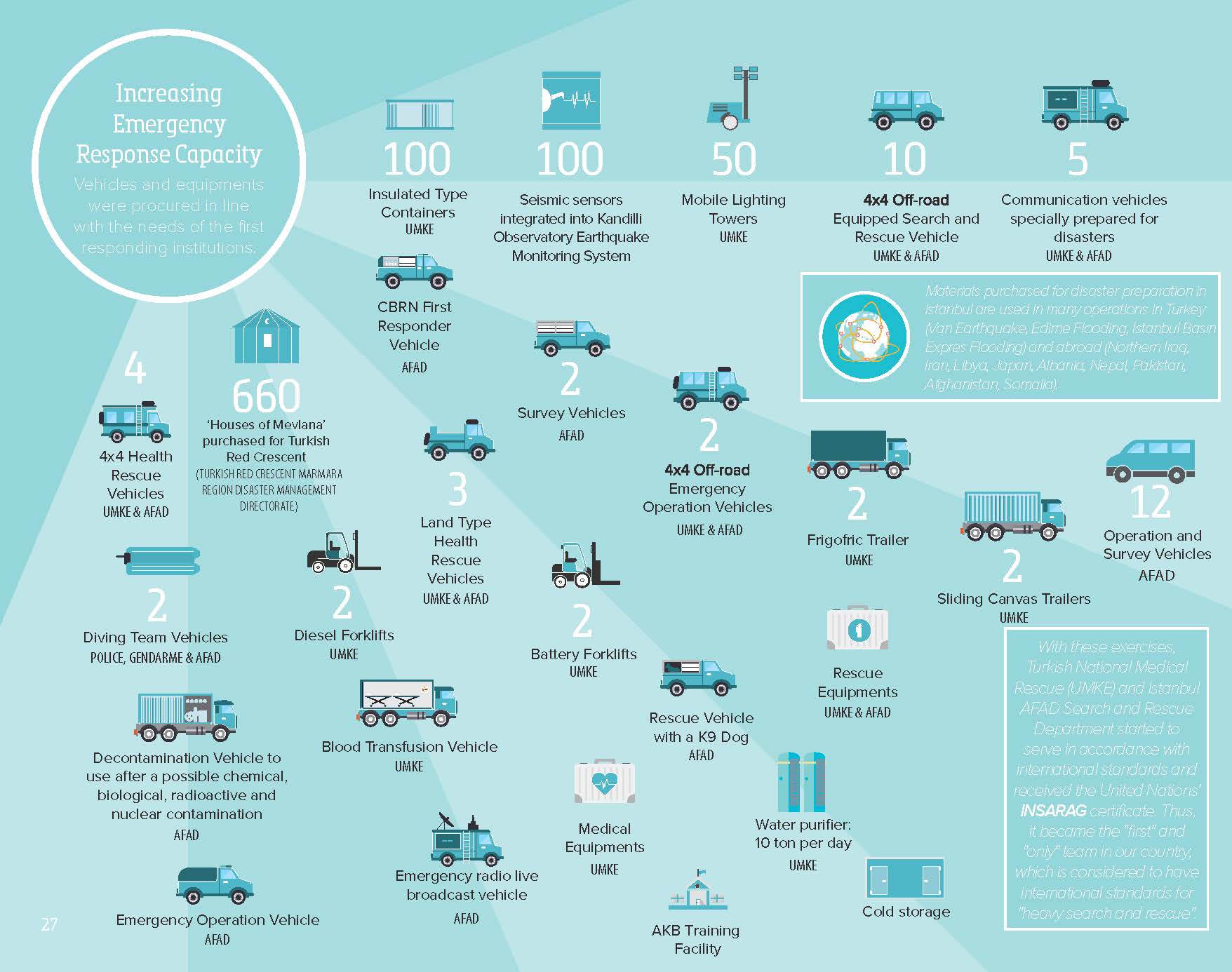 Some of the investments for the first responser institutions