Istanbul Kadıköy Atatürk Science High School which was demolished and reconstructed under the Istanbul Seismic Risk Mitigation and Emergency Preparedness Project (ISMEP), that is implemented by Istanbul Project Coordination Unit (IPCU) of Istanbul Governorship, has received a Leed Platinum Certificate awarded by the U.S. Green Building Council based in USA.
As reconstructed in 2019 in line with environmentally friendly and green building concept, Istanbul Kadıköy Atatürk Science High School is now at the disposal of teachers and students. Generating its own power and electricity, the school benefits from the daylight to the maximum extent, and also features a waste and rain water collection system which enables at the use for garden irrigation after treatment process.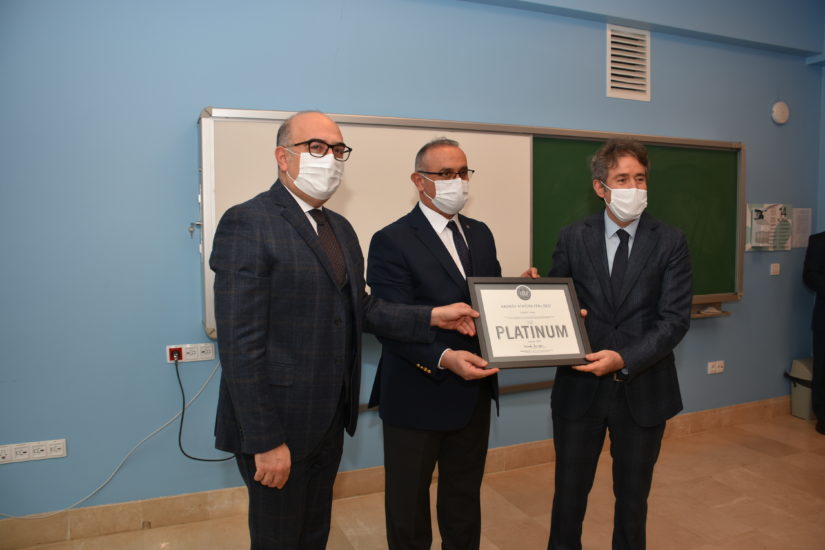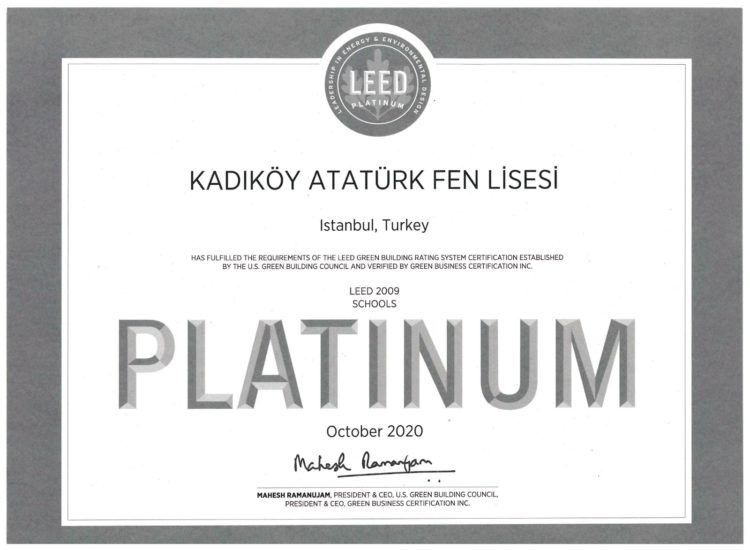 'ISMEP SHOULD BE PROMOTED ACROSS THE WORLD'
Mr. Levent Yazıcı, Istanbul Provincial Director of National Education, emphasized that they wished and desired to widely promote and propagate ISMEP, which was launched in Istanbul in 2006, particularly across Turkey, as well as the whole World as an exemplary project. "Istanbul Kadıköy Atatürk Science High School, which was demolished and then reconstructed in 2019, has a distinctive and authentic aspect. It is an environmentally friendly and productive building with the capability of generating its own power, and students who will be raised in such a school will be the hope of this country. Maybe, this school will raise scientists who will shape the future of our country, playing an important role in and contributing to the advancement of our country. As a teacher and an educator, I would like give, personally and on behalf of our fellow teachers and students, many thanks to esteemed Director of IPCU and his valuable team" said Mr. Yazıcı.
Mr. Yazıcı continued his statements as follows: "ISMEP which was launched during the Prime Ministry of Mr. Recep Tayyip Erdoğan, who is now our President, is an important aspect and reflection of our strategic leadership claims. Of course, I should also mention Istanbul Governor Mr. Ali Yerlikaya who has acted as a very strategic leader and an effective supervisor in the course of reconstruction and redesign of schools at challenging times when we needed it most and lacked it. He has been of great benefit to all of us, and made great contributions to our schools and children."
Following the statements, the certificate was presented to the School Principal, Mr. Muzaffer Güneş by Istanbul Provincial Director of National Education Mr. Levent Yazıcı and IPKB Director Mr. Kazım Gökhan Elgin.