We worked on enhancing the institutional capacity of Istanbul AFAD as the principal institution responsible for provincial disaster and emergency management to prepare Istanbul against a disaster . First of all, we started building a command center to establish a disaster and emergency management, and along with increasing the capacity of Istanbul AFAD's current command center located in Cağaloğlu, we also built two new command control centers on both sides of the city with a total area of 17,000 square meters.
These new operational command centers have a reliable and modern infrastructure with a high accessibility. One of the centers (Akfırat) is located in the Anatolian side of city while the other one (Hasdal) is in the European side. They are capable of providing continuous disaster management operation for 14 days after a disaster with 500 staff members for not only limited to the city center, but also all of the districts city-wide. An electronic infrastructure providing the Disaster Management Information System to work continuously has been aimed. Also, communication channels have been diversified by using all required tech equipment in command centers to prevent the recurrence of communication problems that have been encountered during the Marmara Earthquake. Command centers gained the ability to command centrally during an emergency or a disaster within Turkey Disaster Response Plan (TAMP) with meeting rooms and command center chambers. These meeting chambers are equipped with smart systems that retrieve data from Service Units of TAMP. This data contains real time updates with images from the field and live broadcast among other information.

ISMEP Investments for Cağaloğlu, Hasdal ve Akfırat Command and Control Centers
We build these command centers in comply with architectural design and technology to provide uninterrupted operational services during disasters and emergencies, and to establish a continuous communication with public institutions and organizations of top priority. We reviewed every possible scenario, including worst cases, and worked with having backup for everything, even other backups. We equipped the vehicles as backups for these centers with every detail. Also, we designed these command centers to serve as a stand-alone center for their respective sides of İstanbul in case of the connection between two centers is lost.
Istanbul AFAD Disaster Training Center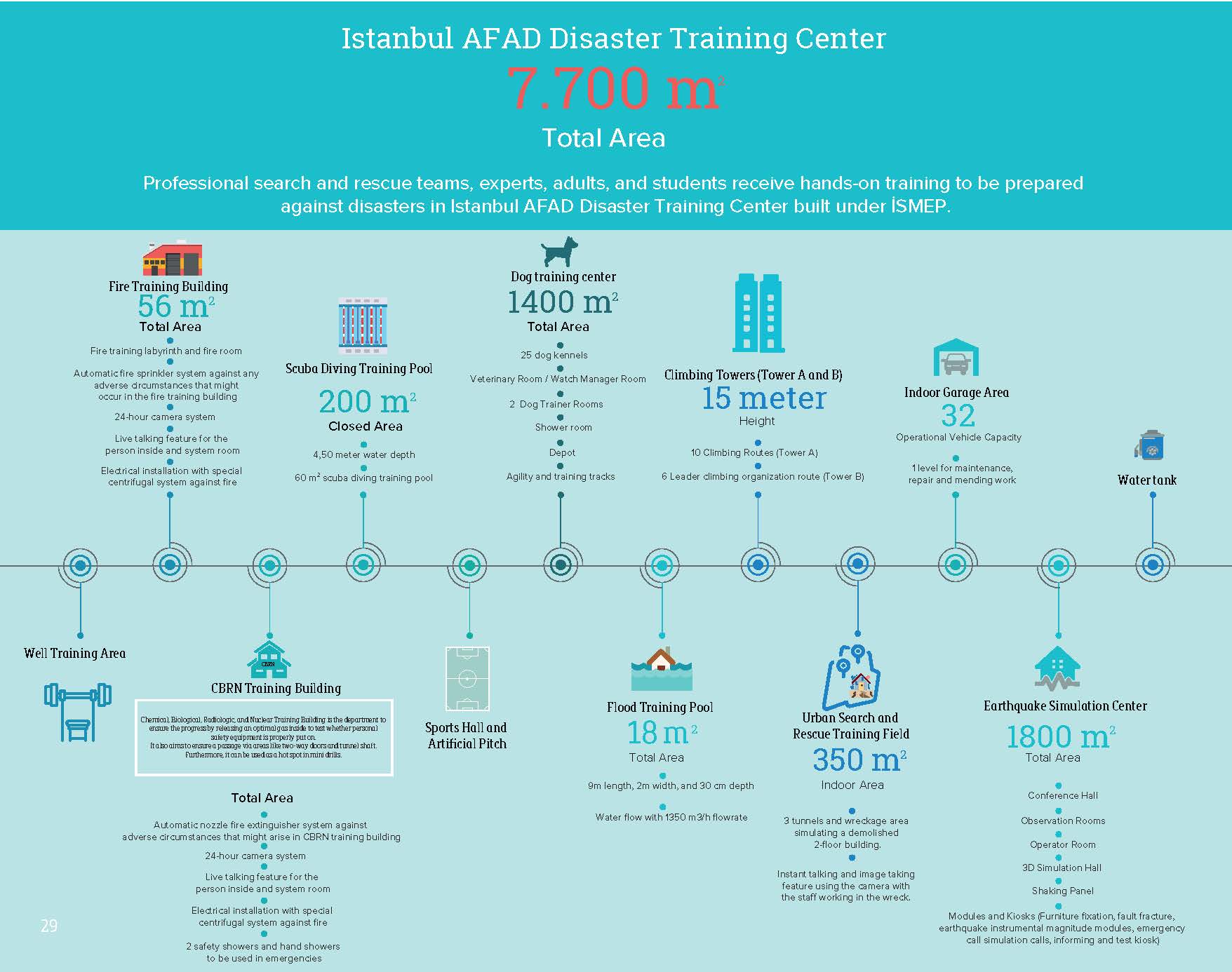 As an important attempt increasing preparedness level of Istanbul against earthquakes and natural disasters, Istanbul AFAD Disaster Training Center has been built under ISMEP Project and opened in February, 14th 2018. Professional search and rescue teams, experts, adults, and students will receive hands-on training to be prepared against disasters in Istanbul AFAD Disaster Training Center.