As IPCU, we believe that the first responders and local governments should be prepared and work together in case of a disaster and emergency, such as an earthquake.
In this context, after the 1999 Marmara Earthquake, a National Emergency Management Information System has been developed and extended across all of Turkey under the Marmara Earthquake Emergency Reconstruction Project (MEER). İstanbul Governorship Provincial Disaster and Emergency Management Presidency (Istanbul AFAD) made critical investments to the development of "Emergency Management Systems".
Within this framework, we immediately renewed the Cağaloğlu Service Building of the Istanbul Governorship Provincial Disaster and Emergency Management and by improving the Information and Communications Technologies (ICT) infrastructure of the building, we turned it into a "central monitoring station". This way a healthy flow and management of information between Istanbul AFAD and other institutions have been established.
On the other hand, we increased the effectiveness of the analog wide area radio infrastructure with optimization and coverage area expansion projects.
We built the Hasdal Command Control and Coordination Center in European side with a total closed area of 7500 square meters and 550 staff desk capacity, and Akfırat Command Control and Coordination Center in Anatolian side with 17,350 square meters of total closed area that includes 8,100 square meters of storage area to work uninterruptedly during a disaster or emergency. We also equipped these buildings to be fully integrated with Cağaloğlu Service Building.
New command centers are in easily accessible locations via different transportation alternatives, and they also have heliports to allow air transportation.
The command centers that are projected as backups for each other are designed to carry out the disaster management both jointly and separately.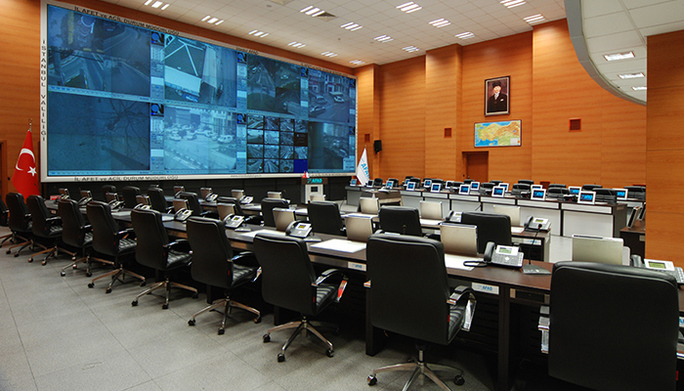 All of the ICT systems in Akfırat and Hasdal Control and Coordination Centers are offering their real time, seamless, failsafe and fully integrated infrastructure to the service of İstanbul-wide public institutes under the Istanbul AFAD's coordination.
Both data centers are designed in comply with business continuity rules and regulations.
Besides these infrastructures, the Disaster Management Information System Software has been developed in compliance with the disaster legislation. This software will be used by all responsible public organizations during a disaster and emergency under the coordination of Istanbul AFAD and it will establish a "Joint Operation View".
It is replaced by "AYDES" which is also based on this web-based software and customized by Republic of Türkiye Disaster and Emergency Management Authority in order to comply with up-to-date disaster legislation. The AYDES software will be the sole disaster management platform used by public institutions across all country. The expansion of AYDES software to the provinces is still continuing.