Besides being Turkey's most populated city, İstanbul is also the social, cultural and economic capital of our country. Through its 8500 years of history, İstanbul became the capital for 3 empires and it was always one of the most important centers of the world. It has also experienced many massive earthquakes due to being on fault lines through its history and many epochal structures took serious damage or crumbled during these earthquakes.
We have taken an inventory of 176 buildings that are located in 26 historical building complexes. These include historical and cultural heritages such as Yıldız Palace and Topkapı Palace that are under auspices of the Ministry of Culture and Tourism. We transferred all the obtained data to a custom data center to review seismic risk of these structures and act on results.

Under Protection of Cultural Heritage studies, we performed literature review, field work, restitution project, seismic risk assessment, damage mitigation measures, and we brought geographic information services database into service. We also completed earthquake performance assessments for classic and additional buildings of the Archaeological Museum, Hagia Eirene Monument and Mecidiye Mansion, and we designed the projects for structural retrofitting of each building.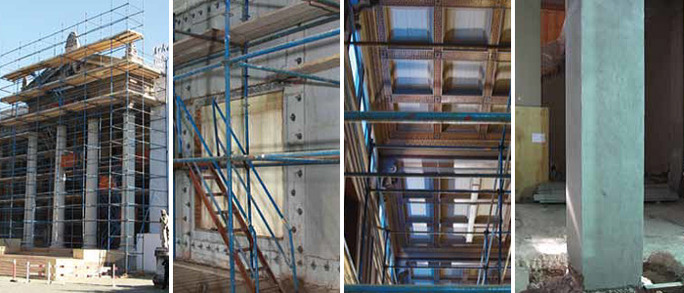 The retrofitting of Archaeological Museum is being implemented by the Ministry of Culture and Tourism. (March 2015)
 A Guide for Management of Earthquake Risks for Historical Structures
Activities under the "Project for Preparing a Guide for Management of Earthquake Risks for Historical Structures" which was initiated pursuant to the protocol entered into by and between the Istanbul Governorship and the General Directorate for Foundations (VGM) on 26 April 2016, and implemented under supports of Istanbul Project Coordination Unit, General Directorate for Foundations along with Ministry of Culture and Tourism, and ICOMOS Turkey, were completed, and the resulting guide was introduced to users and specialists in a symposium held on 5 & 6 October 2017. Please see Guide.